"Laughter is the best medicine- unless you're diabetic, then insulin comes pretty high on the list." Jasper Carrott.
Of course, insulin dependence isn't a laughing matter, especially with the increasing cost! According to an article on "The cost of Diabetes" on the American Diabetes Association's website, between 2012 and 2017 the average cost of diagnosed diabetes has risen by 26%.  The article goes on to say that in 2017 that the average medical costs of a diagnosed diabetic was $16,752 a year. That's a lot to spend in a year! However, there may be good news for insulin dependent diabetics on Medicare. Here are three ways that may help reduce those costs.
#1 Make sure to review your Part D prescription drug plan every year.
You may be asking yourself, "do I really need to do this?" The answer is a definitive YES! The prescription drug plan you have this year will not be the same plan next year.  Part D plans can (and often do) change premiums, co-pays, deductibles, and covered prescriptions. Couple this with the fact that insulin prices change constantly, reviewing every year is critical! Each Part D plan has a"formulary" with covered prescriptions each given a tier. The different types of insulin can range the spectrum of prescription tier lists. For example, the insulin Lantus can range from tier 3 to a tier 5 medication, and isn't even on the formulary for a lot of companies. Taking advantage of the open enrollment period each year is extremely important for mitigating the costs of various insulins.
#2 You may qualify for extra help from Medicare
Extra Help is a program that can save its recipients over $4000/year in out of pocket costs!
Over the course of my career, I have helped a lot of my clients successfully apply for Extra Help through Medicare. Often times they tell me, "I never knew this was available," or "I thought I made too much money or had too many assets."  To give you an idea as to whether or not you might qualify, the income limitations for 2018 were the following: $14,390 for an individual or $28,720 for a married couple living together. It is important to note that this is not a firm number. There are certain types of income that are not counted in these numbers. Also, a person can have some assets in reserve and still qualify. In 2018, these numbers were: $18,210 for an individual or $24,690 for a married couple living together.
#3 There are many medication discount programs/grants available
Even if you do not qualify for extra help, you may qualify for discount programs or grants available to help with the cost of insulin. One of the favorite parts of my job is when I get "thank you" cards from clients who, with my help, were able to have the costs of their insulin covered, sometimes even completely! The American Diabetes Association has an extensive list of discount programs on their website, linked below.
InsiderRX
Rx Assist
Blinkwize
Medicare.gov also has information on different grants available to help with insulin costs.
Other Good News:
Additionally, there have been some big changes to the Medicare part D "donut hole" or coverage gap. For the year 2019, the donut hole has been eliminated for brand name prescriptions. In 2018, once in the coverage gap, the Medicare member was responsible for 47% of the total retail drug cost up until the total retail costs of the prescriptions hit $5000, and hit the catastrophic coverage level. For 2019 this changes, now the Medicare member will only be paying a consistent 25% of the brand name medication costs, up until a total out-of-pocket maximum of 5,100 and entering the catastrophic phase. And that's not all. In 2020, Medicare will also be eliminating the donut hole for generic medications as well, and creating a flat percentage for higher tier medications.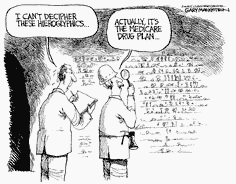 Navigating Medicare Part D plans that best cover insulin costs can be very confusing! Also, knowing how to apply for Extra Help or different available grants can be overwhelming as well. Don't worry; you are not in a boat alone. It is quite a complex topic! I specialize in helping folks like you who are struggling to afford their insulin.
If you would like further information on planning for or reevaluating your retirement, or simply want to chat, give us a call at our local Traverse City office at 231-421-7391.
References:
http://www.diabetes.org/living-with-diabetes/health-insurance/prescription-assistance.html
Sources http://www.diabetes.org/advocacy/news-events/cost-of-diabetes.html