After spending an entire life building your nest egg and finally reaching retirement it can sometimes be daunting when you reach the top of the mountain and don't know what to do next with all you have built. What accounts should I be taking my distributions from? Will I outlive my money? What if we experience another market correction, am I prepared?
This is the time we shift from what is referred as "Asset Allocation" during you working years to "Asset Designation in your retirement years. It is now time to designate a specific purpose for each asset you own to go to work for you in your retirement. To accomplish this at our firm we use what is call an Asset Cycle Portfolio System®.
The Asset Cycle Portfolio System® is designed to provide more secure income in early years using more conservative investments allowing for the use of more growth oriented long term options.
1st Phase – Short Term Income – focused on guaranteed* income by using vehicles that provide guaranteed or the highest level of safety
2nd Phase – Mid Term Income – Safety of principal is still critical in this phase, however short time frame allows for vehicles that may take on small amount of risk for slightly higher growth rates
3rd Phase – Long Term Income – This account is typically not used for 8-12 years which allows for a higher level of risk to achieve more growth as long as it is in line with risk tolerance level
4th Phase – Growth– Using the first 3 phases we have secured 10-20 years of income. This allows for increased risk to achieve higher returns and can assist with replenishing of accounts after income distributions are withdrawn
Protection Umbrella– assessment of any potential long term care needs that could arise and potentially deplete assets
Legacy Transfer Bucket– strategies to most efficiently transfer assets to beneficiaries
*Guarantees provided by annuities are subject to the financial strength of the issuing insurance company; not guaranteed by any bank or the FDIC.


The information contained herein is based on our understanding of current tax law. The tax and legislative information may be subject to change and different interpretations. We recommend that you seek professional legal advice for applicability to your personal situation.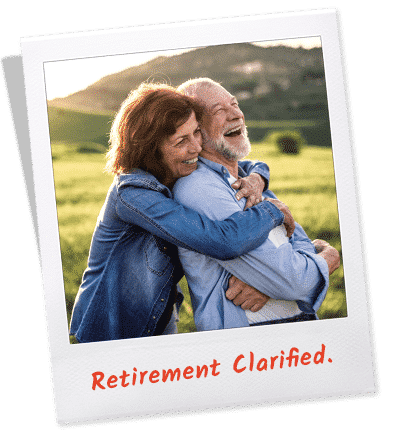 Have mixed drinks, not mixed feelings over your retirement plan.
Retirement shouldn't be a time of confusion and worry, you've stressed enough in your life, you should be able to finally relax knowing your finances are handled and you're covered. We'll help you get started today with a review in the comfort of your own home.