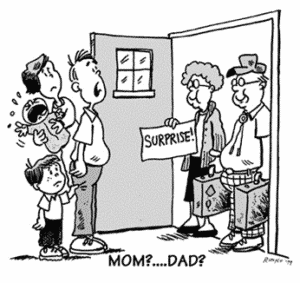 As educators, we are used to being the "go-to" people. Throughout our careers, we spent countless hours imparting our knowledge to our students. As my youngest son used to say when I told him I didn't know the answer to something, "That's impossible! You are a teacher, you know everything!" Of course, we don't know everything, but we love knowledge and learning. I think this is one of the reasons why teachers often shy away from the conversation about long term care.
As someone who was a source of knowledge for so many. It is extremely uncomfortable to think that someday, we may not even be able to remember how to dress ourselves! Alzheimer's and Dementia are thieves, stealing our most precious possession: our brain. Planning for a possible long term care invasion involves uncomfortable conversations. However, the discussions need to happen because according to many recent studies, 70% of us will need some sort of long term care after the age of 65.
If I were to ask you, "Have you ever known anyone who has needed long term care in a facility or at home?" 99% of you would answer "Yes, of course!" Whether it is an old colleague, friend, or a family member, most of us have had personal experience with this growing epidemic. I have. Interestingly enough though, I would guestimate that less than half of you reading this have some sort of long term care insurance in place.
Teachers' Medicare and Long Term Care
Let's get something straight: with Michigan teacher retirement benefits, Medicare and your accompanying ORS insurance coverage may pay less thank you think for Skilled Care. It doesn't matter if you have a Blue Cross Plan or a Priority plan. Medicare, and thus your Medicare insurance plan, pays "something" for 100 days. You will have to pay for what the "something" doesn't cover, depending on the plan you choose. Ultimately, after 100 days, you are completely on your own.
Teachers' Long Term Care Insurance
Long term care insurance plans used to be offered by some districts. However, retirees who did not purchase a policy before 2013 no longer have that option. Now the MEA tells its current employees to educate themselves on the topic and that a consultation offered by MEA financial services partner, ACSIA Partners LLC is available. It is a quote for a private insurance policy. The fact that districts no longer offer group long term care plans is not a surprise. The industry has seen some changes over time. In the late 1990's, over one hundred companies offered traditional long term care insurance. Today, less than a dozen do. It's all about the "mulah" When a month of nursing home care costs $9000, many companies can not keep up with the claims, nor can the policyholders keep up with the premium increases for that matter!
What Teachers' can do to Prepare for a Long Term Care Event
So what do we do? We get creative. There are a variety of different ways to protect your estate against the cost of needing care without purchasing traditional long term care insurance. Using current life insurance, purchasing an asset based long term care plan, or buying a short term care plan are a few options available.
My stepfather struggled with Lewy-Body for years. It started out slowly: he would forget things here and there. Then it progressed to hallucinations, violence, and late-night excursions in the neighborhood. My mom wanted to continue to care for him at home, but she couldn't physically do it. He spent about three years in a facility before finally passing away. The "kicker" was that he had a policy in place but cancelled it stating that he and my mom would always "take care of each other."
None of us ever want to envision our end days with a loss of independence. I find that the reason most folks do not make preparations for what likely will be the inevitable is because they do not want to admit that somewhere down the road, they may have to put a long term care plan into action. Do your family a favor. Take the time to explore what you would do if you needed care. After weighing all of the options, you may even decide to self insure. That in itself is a plan of action. When there is a plan in place, whatever that plan may be, you can feel a bit more comfortable knowing that whatever the future holds, you have a road map to meet your needs and the needs of your family. Learn more with https://retirementclarified.com/ultimate-retirement-guide-teachers/